We are happy to answer any questions you may have about our services or clinicians.
We recognize that coming to see a counselor for the first time is often scary and uncomfortable. We will do our very best to make this as easy for you as possible! The initial appointments are intended to simply familiarize your clinician with current concerns and goals, to better treatment plan your therapy or testing. This is nothing more than a conversation and we hope to make the session as comfortable and easy for you as possible. If the appointment is for a child, it is entirely up to you to bring your child or not. Often, this is purely an information-gathering session, and children being present may be inappropriate. For instance, you may not be ready to disclose to your child all of your concerns, and these concerns may be harmful to their own self-image. However, sometimes the children are very aware of their struggles and have even asked for the appointment. Thus, we ask that parents use their judgement and decide for their own family if they would like to bring their child or not.
If testing is needed, this will happen on a different day, apart from your initial appointment. Testing can last anywhere from an hour to all day - a good night's sleep the night before is very important! Lunch breaks, play breaks, snack breaks are all provided.
If you have any remaining questions regarding your initial appointments, please do not hesitate to contact us through email or phone.
Schedule Appointment via Patient Portal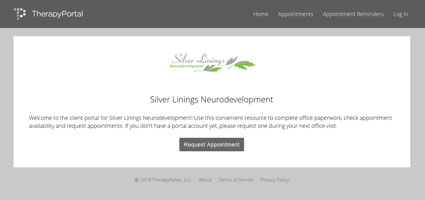 Soon after booking your first appointment, you will receive the new patient paperwork via email. Please email us at office@silverliningsclinic.com if you do not receive an Intake email within 24 hours - please check your Spam folder.
If you do not find an appointment that fits your schedule or is soon enough, please feel free to call our office at (256) 489-1583 and we can help you further. Please be aware that completing this initial paperwork is vital to your initial appointment and completing it ahead of time will avoid unnecessary fees.
This first appointment is intended to simply familiarize your clinician with your concerns and needs. If the appointment is for a child, please use your judgement as to whether or not to bring your child. In some cases, it is helpful for our clinicians to meet the child during this initial appointment. In other cases, there are many severe issues and it would be inappropriate for a child to overhear such concerns. Please be aware that a no-show or late cancellation fee will apply within 24 hours of your scheduled appointment.
For established patients, please consider Submitting a Review of your experience with Silver Linings Neurodevelopment. We are always tweaking our policies and services and your feedback is valuable!